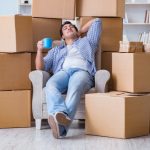 When it comes to remodeling or moving, finding a temporary storage solution is essential to keep your belongings safe and organized. Traditional self-storage units have long been the go-to option for many people. However, portable storage offers a convenient and flexible alternative that comes with several benefits. In this blog post, we will explore the advantages of using a portable storage container instead of a self-storage unit during remodeling or when moving.
1. Easy Loading and Unloading:
One of the main advantages of using a portable storage container is the convenience it offers during the loading and unloading process. While self-storage units require you to transport your belongings back and forth, portable storage containers are delivered directly to your doorstep or desired location. This eliminates the need for renting a moving truck or dealing with multiple trips. You can take your time to pack and load your items at your own pace without the rush or stress.
2. Flexibility:
Portable storage containers provide a level of flexibility that traditional self-storage units can't match. With a portable container, you have the freedom to keep it on-site or have it transported to a secure storage facility. This flexibility allows you to have easy access to your items whenever you need them, even if you're in the middle of a remodel or move. Portable storage containers can be kept on your property for as long as you need, giving you the convenience of having your belongings within reach.
3. Security:
Ensuring the safety and security of your belongings is a top priority when using storage solutions. Portable storage containers offer excellent security features to protect your items. These containers are made with durable materials, such as steel, and many include lockable doors to prevent unauthorized access. In addition, some portable storage companies also offer additional security measures like 24/7 surveillance and access control systems in their storage facilities, providing peace of mind while your belongings are stored.
4. Cost-Effective:
Renting a self-storage unit can be costly, especially if you need it for an extended period. Portable storage containers offer a cost-effective solution as they often have more affordable monthly rental fees. Additionally, you can save money on transportation costs since the portable storage container is delivered directly to your location, eliminating the need for renting trucks or hiring moving services. With the flexibility to choose the duration of your rental, you can easily manage your budget and avoid unnecessary expenses.
5. Protection from the Elements:
When remodeling or moving, the weather can pose a risk to your belongings. Portable storage containers provide protection from the elements, keeping your items safe from rain, snow, or extreme temperatures. Many containers are weather-resistant, allowing you to rest assured that your belongings remain in good condition. This is particularly important for delicate or valuable items that may get damaged in unfavorable weather conditions.
6. Accessibility and Organization:
Having easy access to your stored items is crucial, especially during a remodel or move. Portable storage containers offer the convenience of accessing your belongings whenever you need them. Unlike self-storage units where you may have limited access hours, portable containers are available to you 24/7. Additionally, these containers can be arranged and organized according to your needs, making it easier for you to find and retrieve specific items quickly.
7. Time-Saving:
Using portable storage containers can save you valuable time during a remodeling or moving process. As mentioned earlier, the convenience of having the container delivered to your location eliminates the need for multiple trips to a self-storage facility. You can spend less time transporting your belongings and more time focusing on the remodel or settling into your new home.
Conclusion
Portable storage containers offer numerous benefits over traditional self-storage units, particularly during remodeling or when moving. From easy loading and unloading to flexibility, security, and cost-effectiveness, portable storage containers provide a convenient and practical solution. The protection from the elements, accessibility, organization, and time-saving aspects further enhance the appeal of portable storage during such transitions. Consider using a portable storage container for your next remodeling project or move to experience these advantages firsthand.
Got Questions? Let Us Help!
Welcome to McKenzie Moving & Delivery Service, Inc.! In business since 1926, McKenzie Moving & Delivery Service, Inc. is dedicated to bringing you the most reliable relocation and moving services in Pontiac, MI. We are a full-service moving company offering residential and commercial moving, labor services, packing supplies, and mobile storage containers & portable storage pods. Whether you are moving house or offices, we have everything you need to make the move that much easier. We can even help with those heavy items that other companies won't, such as pianos and safes. With over 90 years of experience, McKenzie Moving & Delivery Service, Inc. is the right choice for all your moving needs. Call us today for your free estimate!
Categorised in: Portable Storage Rentals