Moving can be a stressful and challenging part of life, but it also gives people the chance to try new things and improve their lives. With McKenzie Moving & Delivery Service, Inc., you can rest easy, knowing that your moving needs will be taken care of with attention to detail and the utmost care. Our professional movers have been helping residential and commercial parties move for more than 90 years. We are your one-stop shop for all moving needs! Reliable and efficient, we will give you quality moving services at a price you can afford.
Residential and Commercial Moving Services
Our moving services offer all the options for both commercial and residential moves.
Moving Services
We have a full range of moving services. We offer storage pods, packing supplies, and labor services. No matter what you need for your move, we can help you get from point A to point B without stress.
Portable Storage Containers
Portable storage containers are a great way to make moving easy. We offer these containers as one option among our full services of moving services. These containers are great for when you want to store things away during the moving process without having the hassle of having to rent out space at another storage facility.
Heavy Item Moving
If you have heavy items, you don't have to worry. We've got crew members who can help you move your heavy items safely. No matter what your heavy item is, we'll protect it from potential damage and do all the heavy lifting.
How Do You Prepare a House for Packers?
Taking the following steps to prepare your house for packers can make the process run more smoothly and ensure you don't have to stress.
Get rid of items that you won't be taking with you so that they aren't in the way.
Inform your neighbors that you'll be moving on a certain date so that you can be ready for the truck and make sure you'll have space for the moving service.
Check to see if you need a moving permit. In some cities, a moving permit will be required before you can move.
Make plans for children or pets. Finding someone who can take care of kids and pets on your moving day can ensure safety and make your life a lot easier.
Have your items ready to go. You'll want to ensure your items are already packed and labeled before moving day. This does not apply if you have chosen a packing service, but you may still want to prepare items so that the packing goes smoother.
How Do You Pack Storage Containers
If you have a portable moving storage unit, you might be unsure how to maximize the space you have. Take the following steps to ready your storage containers.
Get your items ready: Start by organizing the items you'll want to pack. It helps to group things based on room or function. Pack the items into boxing, making sure that you don't fill the boxes too much. It is best to use boxes that are the same size because they will fit better.
Leave little space: When you load your boxes, you'll want to pack them as closely together as possible so that the items don't move when they are being transported.
Distribute the weight: Make sure that you spread the weight out as evenly as possible, so you don't want to group all the super light items or all the heavy materials in one spot.
Put irregular objects by the door: If you have oddly shaped items, you can put them near the doors, or you may be able to slide them on top of your boxes.
Wrap things carefully: when you have fragile items, always use cushioning and protective wrapping. You can use your clothes, pillows, or other soft items to cushion fragile pieces.
Use loading straps: loading straps can be used to keep your items in position.
What Does Commercial Moving Mean?
Most people are at least somewhat familiar with residential moves because it's such a common human experience that many people have gone through at least once in their lives; however, people are often less familiar with how commercial moves work and how commercial moves are different than residential moves.
The main difference between commercial and residential moving is that commercial moves need more coordination and are on a greater scale than residential moves. Commercial moves don't have to be chaotic and stressful, but they do need to be planned more carefully. Businesses have less flexibility when moving because they need to consider the financial ramifications of moving, and they want to disrupt their business operations as little as possible. We work with businesses to make sure there's as little business interruption as possible.
Commercial moves can also stand out because they require the movement of sensitive materials. Some businesses will have highly sensitive files that have to be moved with care. Even businesses that don't with as much sensitive data will still have documents like tax files or employee records. Our movers always make sure to take care of these documents with the security they need.
A final example of what distinguishes commercial specialty item moving is that commercial properties typically need tons of equipment moved. While residential locations do have some electronic equipment, businesses have heavy-duty equipment and higher quantities of equipment. This equipment is often expensive and crucial for running businesses smoothly; thus, it's imperative to handle all this equipment with the most care.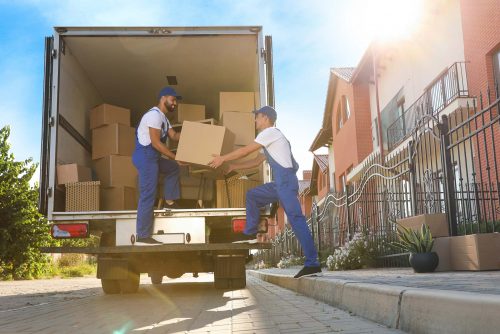 Need a Moving Company in Auburn Hills, MI?
If you're in Auburn Hills, MI, or the surrounding areas, we'll be happy to help you with your move. Moving should be an exciting experience, and it doesn't have to be a major burden. We'll work with you to find solutions for whatever concerns you may have. Our team makes sure your most valuable items are safe because we know how important these items are. Don't take a chance on your move and trust professionals who have been in the business for nearly a century.
Contact us today to start the process of moving. Not only will we give you our transportation services, but we will also help you with labor, packing supplies, and offer our experience on what moving services are right for your needs. We'll leave nothing to chance when we move your goods.