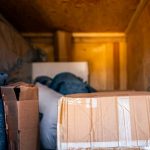 Moving can be a stressful and overwhelming experience. From packing up all your belongings to coordinating logistics, the process can leave you feeling exhausted. Fortunately, there are solutions available to simplify your moving experience, and one of the most efficient and convenient options is using storage pods. In this blog post, we will explore how storage pods can make your move easier and more streamlined.
1. What are Storage Pods?
Storage pods, also known as portable storage containers, are an innovative and flexible solution for storing and transporting your belongings during a move. These containers are delivered directly to your doorstep at the time of your choosing, providing you with a convenient and accessible storage solution. They come in various sizes to accommodate different needs, allowing you to select the size that suits your requirements.
2. Convenience and Flexibility
One of the biggest advantages of using storage pods is the convenience they offer. Unlike traditional moving methods that require you to transport your belongings to a storage facility, storage pods are delivered right to your doorstep. This eliminates the need for renting a truck, loading and unloading multiple times, and the hassle of driving to a storage facility. With storage pods, you can pack and load your belongings at your own pace and have them transported to your new location whenever you're ready.
3. Secure and Protected Storage
Storage pods are designed to be secure and protect your belongings during the moving process. The high-quality construction ensures that your items are safe from external elements such as weather, dust, and pests. The pods also come with sturdy locks to provide an additional layer of security. Some companies even offer climate-controlled options, ensuring that temperature-sensitive items are kept in optimal conditions.
4. Time Savings
Moving can be a time-consuming process, but using storage pods can help you save significant time. With traditional moving methods, you may need to make multiple trips to transport all your belongings. This can be not only exhausting but also time-consuming. By using storage pods, you can load all your items into the container at once, eliminating the need for multiple trips. The container can then be transported to your new location, allowing you to focus on other aspects of your move.
5. Flexible Storage Solutions
Storage pods offer flexible storage solutions to cater to your specific needs. Whether you need short-term storage during the transition or long-term storage for items you don't have space for in your new home, storage pods can accommodate your requirements. You can keep the pod on your property for as long as you need or have it stored at a secure facility until you're ready for delivery. This flexibility gives you the freedom to organize your move based on your timeline and storage needs.
6. Reduced Stress and Clutter
Moving can quickly become overwhelming, especially when faced with the task of decluttering and packing up your belongings. Storage pods can help alleviate this stress by providing you with a designated space to store your items. You can systematically pack and organize your belongings in the pod, reducing clutter and creating a more organized moving experience. This can also make the unpacking process at your new location much more manageable, as you can unload the pod at your own pace.
7. Cost-Effective Solution
Using storage pods can also be a cost-effective solution for your move. Unlike traditional moving companies, which may charge based on the weight or distance of your move, storage pods offer more transparent pricing options. You pay a fixed monthly fee for the container and the delivery, allowing you to plan and budget your move more effectively. Additionally, the convenience and time savings offered by storage pods can potentially save you money on other moving expenses such as truck rentals or professional movers.
Conclusion
Storage pods offer a convenient, flexible, and efficient solution for simplifying your moving experience. With their convenience, flexibility, and secured storage, they can help save you time, reduce stress and clutter, and provide a cost-effective option for your move. Whether you need temporary storage during the transition or a long-term storage solution, storage pods can streamline the moving process and make it less overwhelming. Consider using storage pods for your next move and enjoy a more seamless and hassle-free experience.
Got Questions? Let Us Help!
Welcome to McKenzie Moving & Delivery Service, Inc.! In business since 1926, McKenzie Moving & Delivery Service, Inc. is dedicated to bringing you the most reliable relocation and moving services in Pontiac, MI. We are a full-service moving company offering residential and commercial moving, labor services, packing supplies, and mobile storage containers & portable storage pods. Whether you are moving house or offices, we have everything you need to make the move that much easier. We can even help with those heavy items that other companies won't, such as pianos and safes. With over 90 years of experience, McKenzie Moving & Delivery Service, Inc. is the right choice for all your moving needs. Call us today for your free estimate!
Categorised in: Portable Storage Rentals